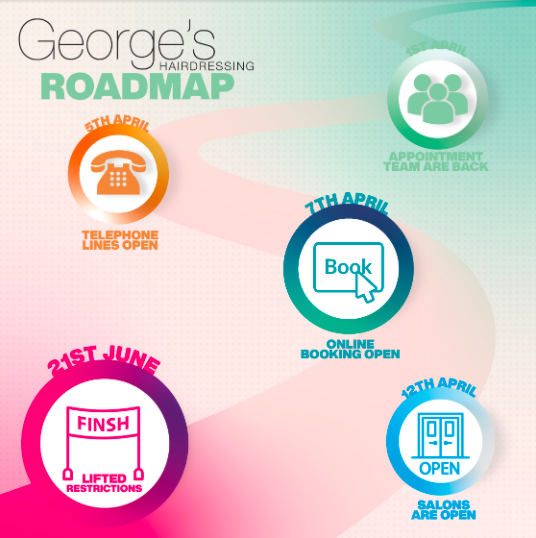 George's Roadmap
We have released our own roadmap that outlines when we are returning to the salon after Lockdown.
WHEN WILL LOCKDOWN END?
If, in the week leading up to Good Friday on 2nd April, there is no significant rise in the R number or infections, then we will open our shops on April 12th.
April 1st: Our reception and Appointment line team will start back to work. They will be responding to all your emails. They will be confirming all the appointments that are booked in from the 12th April and onwards.
April 5th: PHONE LINES ARE OPEN, from 8am our phone lines will be open ready for your calls.
April 7th: ONLINE BOOKING OPEN, you will be able to book your cut and finish.
April 12th: SALONS ARE OPEN!
Allergy Test; It's thought that people who have tested positive for coronavirus have a stronger sensitivity to hair dye than they did previously. For this reason, if you have tested positive for Covid-19, or suspect that you had it without being diagnosed, we advise you to have an allergy test 48 hours before your hair colour.
OUR CANCELLATION POLICY
We understand that sometimes you may have to cancel an appointment. Please give us at least 48 hours' notice, otherwise a cancellation fee of 50% of the cost of your service or treatment will be charged.
We will take your payment details at the time of booking an appointment with us.
If you need to cancel, please give us a call or use our online booking system. Please don't text, email or put a message on social media.
PAYMENT DETAILS
Before we take your payment details to cover a cancellation charge or a deposit or advance payment, we will confirm:
The service or treatment you have booked.
The salon location and contact details.
The total price of the service booked or how the price will be calculated if an exact price cannot be given.
The time and date of the appointment.
ADVANCE PAYMENTS
We will take payment in full at the time of booking:
If you are a new client
If you are booking online
For an appointment lasting more than two hours, such as hair colour or straightening service
if you missed your last appointment with us.
In case of a late cancellation or no-show, we will keep an amount of the advance payment that genuinely reflects the loss we have suffered as a result of the late cancellation or no-show.