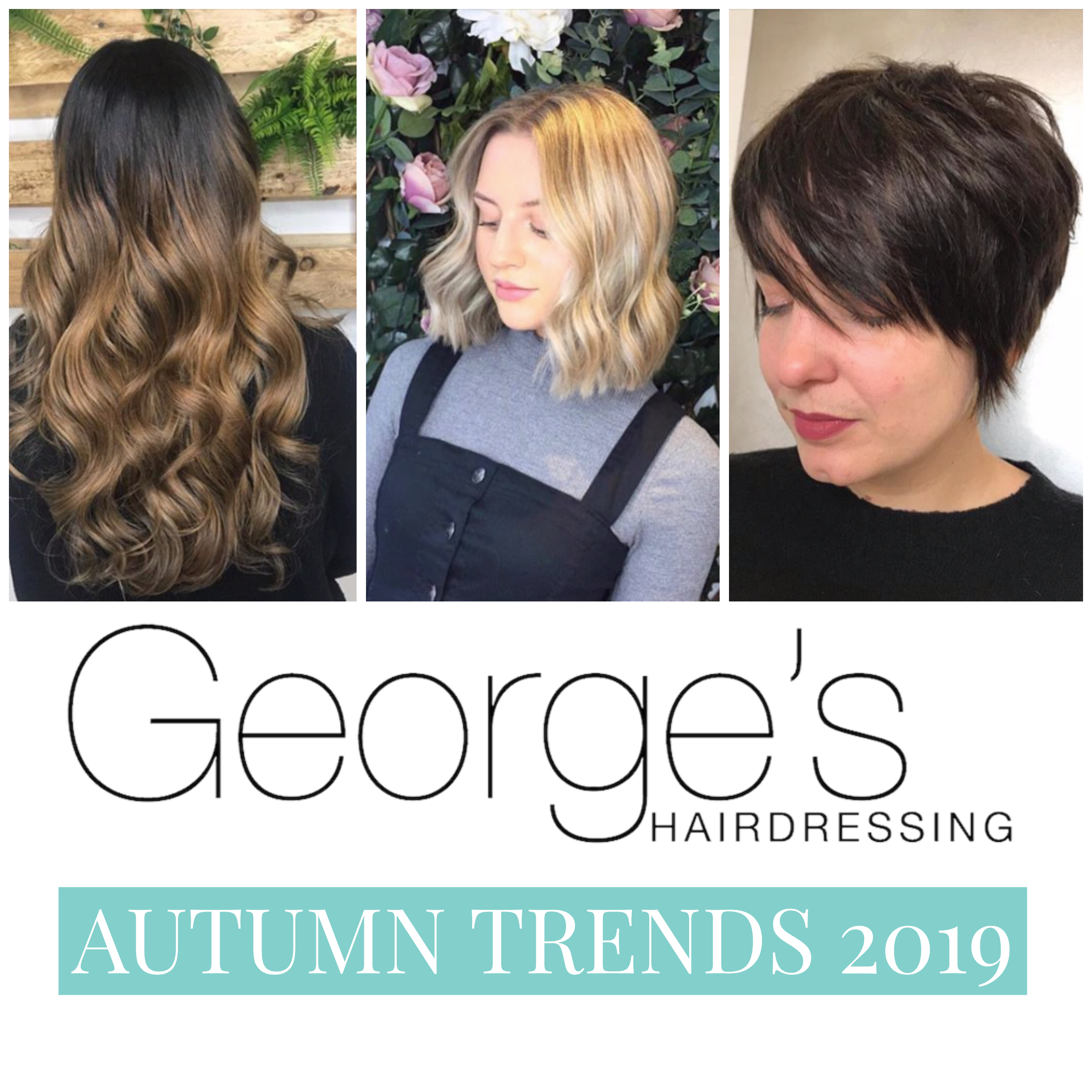 George's predicted hair trends for Autumn 2019
Summer is officially over. Say goodbye to the sun – and say goodbye to humid hair, beach-bum chic and the wet look (it's getting too cold for that sort of thing). Autumn's in and George's is here to tell you exactly what your style should be during the autumnal months. So, cuddle up in your warmest blanket, grab a coffee and read our predicted trends below…
The Bob
It might seem like a cliché, but the Bob is back – and it's here to stay. Everyone knew 'the Rachel' would have it's time again, and with Friends on Netflix – that time is now. Whilst a classic Bob is never a bad option, a more tousled look is the style to look out for. Channel your inner Rachel today!  
Curtain Bangs
Retro styling is all the rage at the moment – and the boho-chic style of curtain bangs brings out your inner 70's style. Many have been sporting the look over summer and it is guaranteed to be one of the looks peeping out over an oversized scarf this autumn. Curtain Bangs are low maintenance and can work with your hair up or down – looking great with a bit of an accentuation (think Alice headbands).
Honeycombed Hair
Honeycombed hair is in.  Forget the platinum blondes and fun colours of festival season. This look is all about honey, caramel and chestnut warmth. This look is all about honey, caramel and chestnut warmth – it's hair that keeps you feeling cosy all autumn. Don't think you can pull it off? Just wait until you see what our balayage technique will do to your style.
Bedhead Waves
At George's, we like to create looks that you couldn't create yourself. Bedhead waves are a tad different. You can indeed create them yourself simply by crawling out of bed and ruffing your hair. However, if you want it to last past 10AM, you're going to need a George's blow-dry and styling appointment. Bedhead waves give you that easy, effortless look.
Voluminous Pixie Cuts
A pixie crop will ensure your hair is always looking super stylish – whatever the weather. It's a cut that you can style in a few different ways, wear with any outfit and maintain with ease.
Time for change
Feeling inspired by our autumn looks? Get in touch for a styling appointment or a consultation and we'll have you ready for autumn in no time.