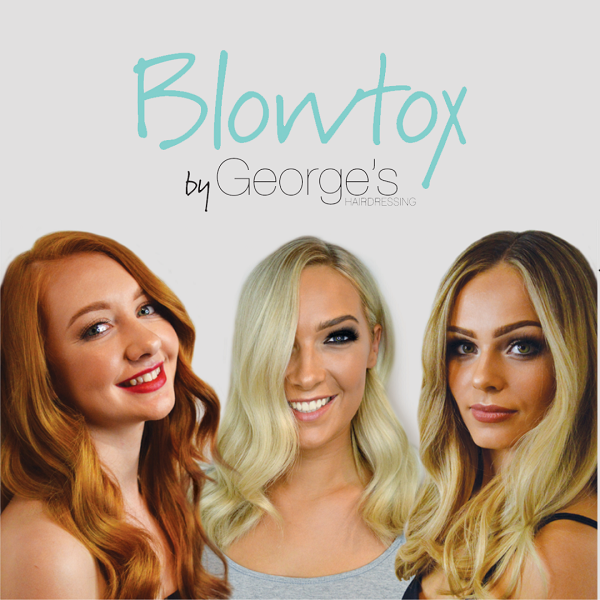 Blowtox by George's Hairdressing
Why a 'Blowtox by George's Hairdressing' should be part of your weekly routine…
We're dedicating March to the month of blow-dries in our Salons across Leicestershire. George's Hairdressing has been around for over 45 years so we can assure you that we know our stuff when it comes to blow-drying your hair. As part of the L'Oréal Professionnel Portfolio, our hairdressers have been recognised for their creativity and expertise.
We think a good blow-dry should be part of everyone's weekly routine to keep your hair plumped to perfection! Need convincing? Read on…
LEAVING IT TO THE PROFESSIONALS
A professional blow-dry is simple, affordable and leaves your hair looking shiny, without a hair out of place. You can try to do your own blow-dry at home but why try when you can sit have it done by a professional who knows exactly how to make you look your best. Our Graduate Stylists at George's have a commitment to keeping up an excellent standard to ensure your visit is a memorable one with the promise to deliver the best customer service.
HAVE SOME YOU TIME
Life can be stressful and when you look good, you feel even better! So imagine how good you would feel after having a professional blow-dry every week?! Whether you have it sleek and straight or big and bouncy; a blow-dry is sure to make you feel red-carpet ready without having to make any drastic changes. Sit back, relax, have a chat, and enjoy a bubbly glass of prosecco whilst you have your hair blown to perfection.
LOOK LIKE A CELEB
Celebrities almost always have flawless hair. But how do they have the time to keep it so sleek and shiny or so springy? Blow-dries of course! When they are attending red carpet events, we all know they haven't had hours to get ready due to their busy schedules. So a simple Blow-dry provides them with an effortless look.
MAINTENANCE & STYLE

A good blow-dry can last for a few days, even a week dependant on your hair type. By having a blow-dry every week or two, you are causing less damage to your hair than if you were to wash and dry it every day. As it lasts so long, it will free your time up – imagine not having to do the gruelling job of washing, drying and heat styling your hair? We believe it should be part of everyone's routine to keep your hair in good condition.
OUR ADVICE

Ready to book your weekly dose of 'Blowtox'? Book 5 Blow-dries and you'll get your 6th FREE with a Blowtox loyalty card! Book your 'Blowtox' today.
| | |
| --- | --- |
| | |